Essex — Sid Couchey, creator of characters Richie Rich, Little Dot, Little Lotta, and Rascal the Raccoon, passed away Sunday, March 11.
Couchey, 92, was spending the winter in Inman, S.C., and passed peacefully, according to his wife, Ruth.
In February, Sid was diagnosed with Burkitt's lymphoma. The aggressive cancer took hold quickly and Sid passed away. He is survived by his wife of 52 years, Ruth, their two children and many grandchildren.
Reaction came from throughout the region of the cartoonist's passing.
"I had just sent him a card the other day, so I am really sorry to hear that he is gone," said Ticonderoga cartoonist Stan Burdick. Burdick credited Couchey with helping him launch the former cartoon museum in Ticonderoga.
"It's hard to put into words what I feel right now," he said.
"He brought a lot of joy to a whole lot of people," Cal Castine of Hometown Cable, who collaborated on a set of cartoon books celebrating local actor Tom Tyler, said. "His loss will leave a void in a lot of lives. He was deeply religious, and I am sure that the first thing he heard in heaven was, 'well done, good and faithful servant.'"
First pitch hall of fame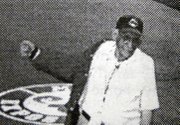 Castine said he got to know Couchey at first through his work with Hometown Cable.
"Gordy Little and I did an interview with him back in 1997 or 98," Castine said. "We did a couple of stories on him, and I learned that he was a Cleveland Indians fan. When they were coming to play the Montreal Expos for the first time in 2002, I was doing reporting up there. I asked the team about it, and they just jumped on it."
Couchey threw out the first pitch of the June 21 game between the two teams. He then created the First Pitch Hall of Fame in Essex.
(Continued on Next Page)
Prev Next
Vote on this Story by clicking on the Icon