Clintonville — Audience members are sure to be taken down a "yellow brick road" of adventure as the students of Au Sable Valley Central School perform the 1939 classic film, "The Wizard of Oz" March 15 through the 18.
"We try to bring an element of professional theater here for the students and for the audience," Diane White, Special Education teacher at ASVC and dance choreographer for the play, said. "There will be at least 100 costumes, flying actors, lights and dedicated actors to bring this story to life."
The play contains a cast of 60 students and a crew of 10 students from the elementary school through high school. It will be held at the AuSable Central School Auditorium at 7:30 p.m. on March 15, 16, and 17, and there will be a 2:30 p.m. showing on Sunday, March 18.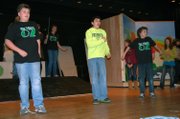 Lead characters in the play are Amanda Hamilton as Dorothy, Emma Healfgot as the Wicked Witch of the West, Teesha Coolidge as Glenda the Good Witch, Cody Langley as Scare Crow, Noah Lawrence as Tin Man, and Sebastion Pray as the Cowardly Lion.
The cast and crew will be adapting the 1930 classic film to stage for members of the community. White said the story of the "Wizard of Oz" was more of a challenge to bring to the stage since it was a movie made into a play and unlike the plays done in the past.
"Unlike most of our plays the 'Wizard of Oz' was a play adapted from a movie so there were many staging challenges," White said. "Most people know this story through the movie and what our students are doing is adapting it for the audience."
Healfgot said the challenge of bringing her "wicked" character to life was an exciting task.
"At first I wasn't sure where to bring her, I don't consider myself a mean person, but with practice and time I've been working on the character," Healfgot said. "I took her from the character I grew up with to be a frightening witch with a twist of dark humor."
(Continued on Next Page)
Prev Next
Vote on this Story by clicking on the Icon