continued — Thayer was a prison warden who wanted to do something about a large number of prison fires, so he started a firefighting company. Soda acid machines mixed sulfuric acid and sodium bicarbonate to make a gas that would pressurize water tanks to help pump.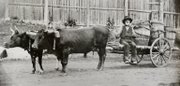 Thayer also kicked off a water famine in Dannemora at the dawn of the 20th century. Wells in the village were abandoned when he built a water supply system that fed off the prison. When the hospital for the criminally insane put too much stress on system, Thayer shut off the village, and people had to turn to delivery by barrel while the sewer system overflowed. This famine ushered in the incorporation of the village.
Dick Lynch, head librarian for the Northern New York American-Canadian Geneological Society, said being next door to Light in the village offices creates a little historical network that both find very beneficial.
Lynch has been able to donate photographs and railroad artifacts for display in the museum, and Light sends inquisitive minds over to the Society to seek new information of local lineage.
Light has many more stories to tell, and exhibits to show off. The museum's posted hours are Tuesdays, 3 to 6:30 p.m. and Fridays, 11 a.m. to 1:30 p.m. He's happy to make appointments for people, though, as the museum represents a lifelong hobby.
He's encouraging people to visit soon, because he's getting ready for an exhibit redesign this June, where he'll have a section of the room focused on Chazy Lake. He wants to keep things fresh so people have a reason to visit again and again
Those who would like to donate funds or items, or loan an artifact can call Light at 492-7569.
Vote on this Story by clicking on the Icon