Westport — How do you create an unbeatable machine?
"There's no secret," explains former Westport girls basketball coach Tom Beauvais. "The thing that was important to me was developing athletes and developing kids. You have to teach self-esteem so that they feel good about themselves and you have to make sure they're responsible: that they know what their roles are on their team and are responsible to their teammates, and everybody has a responsibility."
Beauvais, 66, will be inducted into the New York State Basketball Hall of Fame on March 18 at the Glens Falls Civic Center.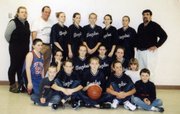 The statistics and records Westport's girls hoops teams compiled during Beauvais' 1986-2002 tenure are eye-popping: 162 straight wins in league play, 15 consecutive league titles, 13 sectional titles between 1988 and 2002.
Beauvais coached in two state championship games and set a Section VII record for the most wins by a girls varsity hoops coach. Eight girls who played for Beauvais scored more than 1,000 points, 10 played college basketball and three earned Division I scholarships.
Beauvais is also widely credited with helping athletes from throughout the region go on to play college basketball through his role in creating a trailblazing Amateur Athletic Union (AAU) club.
Beauvais said he built Westport's program by focusing on the basics – strength, conditioning and fundamental basketball skills – and by creating a role on the team for each child and making sure they all felt they were a part of the team.
"Some players played more, some players played less, but every child would play – that was very important," said Beauvais. "We never substituted anyone because of offense. We substituted people who were not participating in the team defense.
"We kept everything simple," he recalled. "The offenses were simple offenses; the defense was man-to-man, with a lot of help."
(Continued on Next Page)
Prev Next
Vote on this Story by clicking on the Icon