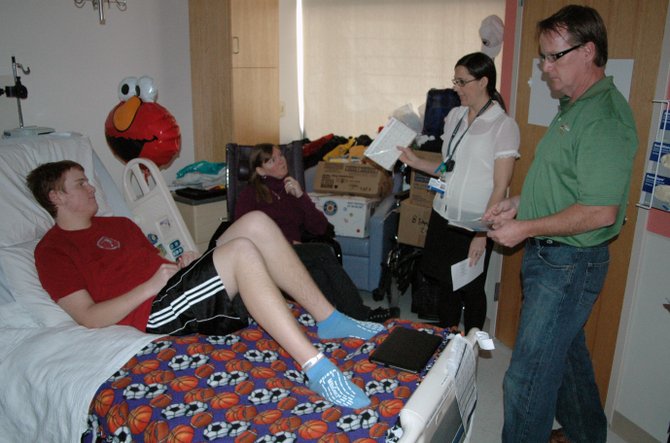 continued — "He was so out of it those first days," Connor's mother, Darlene Mitchell, said.
Connor had also had a rough morning, as his body and stomach continued to adjust to the medications, causing nausea and vomiting.
"He gets stronger as the day goes on," Smitty said.
Connor said the biggest challenge through it all was the time that he spent at the hospital waiting for the heart to come in.
"That was the big difference," Smitty said. "He had to be here for three and-a-half months, and Brock only had to be here 11 days."
"The wait definitely was the hardest part about everything," Connor said. "In reality, 105 days is a normal time frame but in comparison to my brother, that was a long time."
Connor said his brother Brock has been a key inspiration in his recovery. Both boys suffer from a rare inherited heart condition known as familial dilated cardiomyopathy.
"He (Brock) came down the day before and sat here and we just talked for a couple of hours," Connor said. "He just kept saying that this was the best place in the world for me to be and that I should not be worried. He also kept telling me to look where he is now, I mean, he's back out on the soccer field and doing everything, and that I was going to be there soon and get to be a normal kid again."
"Brock was as happy when this was over as anyone," Smitty said. "They have a real special bond after going through this."
"Brock loves him more than anything," Mitchell added.
Smitty also talked about the support that he has received from family, friends and those who are also on "Floor Eight" at the hospital — the cardiology floor.
"The people in Elizabethtown and all over Essex County have been a great support throughout this whole thing," he said. "Here, it has been good to know people that are going through the same things and are keeping their head high."
Vote on this Story by clicking on the Icon