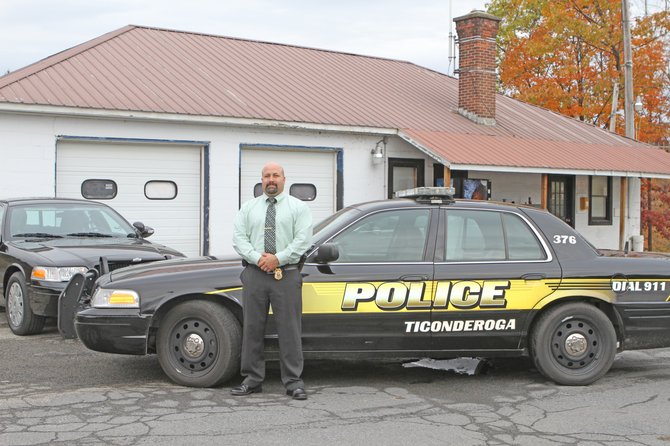 continued — LaRock pointed out fire fighting equipment has gotten bigger and heavier. The Ti ladder truck weighs 90,000 pounds, he said. The tanker weighs 68,000.
"That building (the fire house) wasn't designed to support anything heavier than a couple of ladies with shopping carts," he said. "We had to replace a portion of the floor last summer because it was crumbling."
The fire house also has electrical, roof and sewer issues, LaRock said.
"We'd like to work something out with the town board," LaRock said. "Hopefully as a fire department we can get some grant funding and the police can also get some grants. We want to make this as easy as possible for taxpayers.
"The police and fire department work together very well," he added. "We think this makes a lot of sense."
So does Malaney.
"That seems to be the most attractive direction at this time," said said.
Malaney stressed, however, the town is limited by financial concerns.
"We'd like to meet the 2 percent property tax cap again next year, and every year," Malaney said. "That tax cap has changed everything.
"Our day-to-day operations are up 10 percent and we're trying to stay at a 2 percent increase," she continued. "The next budget will be more onerous that this year. I will not jump into a major financial investment with taxpayer money at this time."
The supervisor also said the town board is opposed to leasing or buying space downtown at this point.
"We don't want to tie up potential retail, tax-producing space downtown," Malaney said.
While the police situation has been at the forefront of discussion, Malaney said a full review of all town buildings is needed.
The Armory, which was given to the town by the state when the National Guard left the community, is expensive to maintain, the supervisor said. It is the home to Ti's youth and senior citizen programs.
"The Armory is a big question," Malaney said. "What are the projected long-term costs to own it? Does it make sense for us to own it? Would we be better off giving it back to the state?"
There are also issues with the town highway garage that will need to addressed in the future, Malaney pointed out.
"We need a full study of our buildings and to develop a plan," Malaney said. "It's something that has to be done."
Vote on this Story by clicking on the Icon