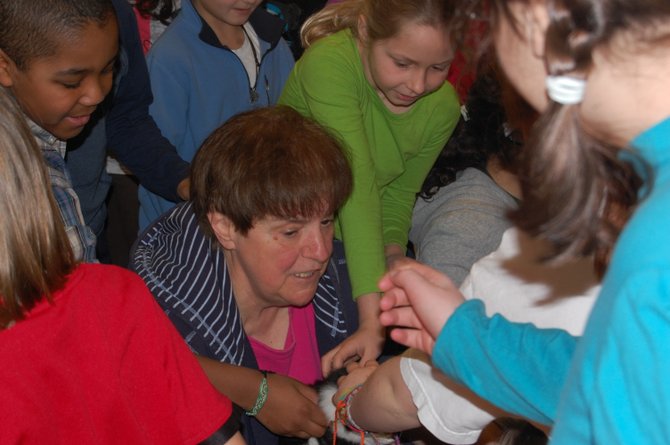 continued — He was smiling when Lil Cassidy, manager of the Adirondack Humane Society, visited the school Feb. 29.
She told students that the shelter currently has 135 cats and 10 dogs. Last year when she visited, there were 195 cats, though the shelter is only built to hold 100.
The animals are excited when employees arrive each morning, though there is a lot of cleaning to be done and it all comes at a high cost.
Last year, Oak Street students raised $800 for the shelter, and the money was used to assist people in the community who couldn't afford to get their cats spayed and neutered.
In addition to cleaning, shelter employees take care of animals medically, checking for ear mites and treating for fleas.
"All of our kittens and cats are pretty well mannered," Cassidy said.
There are many reasons cats end up at the shelter, though most often it is because people move and can't find a place that takes animals.
"A lot of landlords don't want to have pets, so these people don't have a choice," Cassidy said.
The shelter has been around 14 years and adopted out more than 4,500 animals, taking in 465 last year.
Cassidy shared with students a story about a unwanted dog who was kicked at his home by visitors. The dog is at the shelter now and has come a long way but still has trust issues.
"When strangers come in she bounces off the walls," Cassidy said. "She needs the right match, because she had such a rough start."
Cassidy thought about appropriate matches that day when she was selecting animals to bring to the school.
"I almost brought in a dog today, but his tail is a lethal weapon."
The students laughed, but their eyes grew even wider when Cassidy released the cats.
Many students asked Cassidy questions and some shared stories about their own animals and families, such as one girl whose grandmother is obsessed with cats and another who had "tons" of dogs when she was little.
The students were excited about the opportunity to help the shelter.
"It is nice to know the animals will be safe and have a better home than they did before," said Paige Murray.
"We are helping the Humane Society with what they are doing to help all the animals get a better home than they used to have," said Riley Savastano.
Vote on this Story by clicking on the Icon