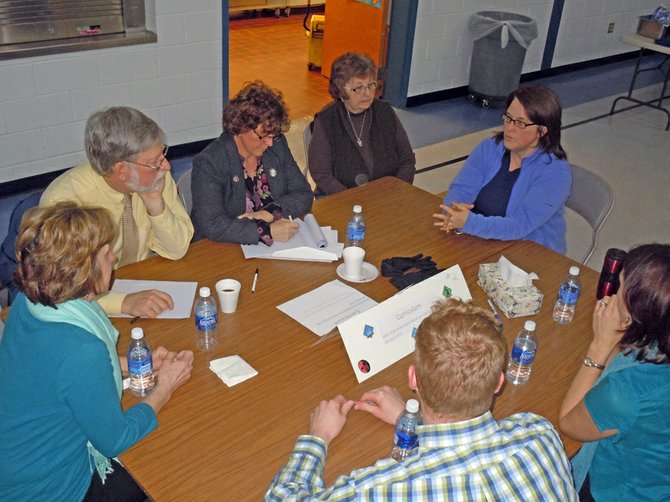 continued — Like others visiting the school, Miner said she's confident that "some of the good ideas we came up with will be acted on" by the superintendent.
"But, we still didn't get too deep into some of the really hot topics," she said, like the seeming inevitability of regional program or even school mergers. Miner brought the topic up a number of times, including in reference to sports programs. (She's not happy with the prospect, but realistic enough to know plans should be readied.)
Indeed, the pre-selected topics, while all important, hung off of or directly impacted curriculum.
At that table, where Conner sat, discussions were less complimentary and noticeably more focused.
Maria Glode, who teaches art in the district, sought assurances from the board president that art classes held the same weight in his mind as other disciplines. (He said he agrees.)
Jeremy Williams of North Creek said that he's always been surprised at how such a small district could have such a robust arts program.
It was that program that convinced Williams, a social studies teacher at Queensbury Middle School, and his wife, Sarah, owner of Café Sarah in North Creek to build their home in the district. The couple now has three children in Johnsburg.
Class size, counterintuitively for a district watching its young population fall, is a problem, said both Williams and Rachel DeGroat of Bakers Mills.
Combining two small classes can result in a large class that requires at least a teacher and a teacher's aide, particularly in kindergarten through fourth grade, said Williams.
DeGroat told Conner that it's increasingly difficult to put that minimum amount of resources in classes.
Chelsea Gazaille, an intellectually adroit 12th grader, followed closely the evening's discussions and spoke up with several ideas and insights. But is she sure that she would see changes if she returned after graduation?
"I do feel confident," said Gazaille, who lives in Thurman and whose mother teaches in Johnstown. "This is a small and tight-knit community. Instead of this (cracker barrel) being just the community and teachers and students talking to the board, everyone here is working as a team."
Glode, despite her prodding earlier in the evening professed no doubt that tangible changes would result from the meeting.
"I've been around these people all of my life. They don't take things lightly," she said.
Vote on this Story by clicking on the Icon