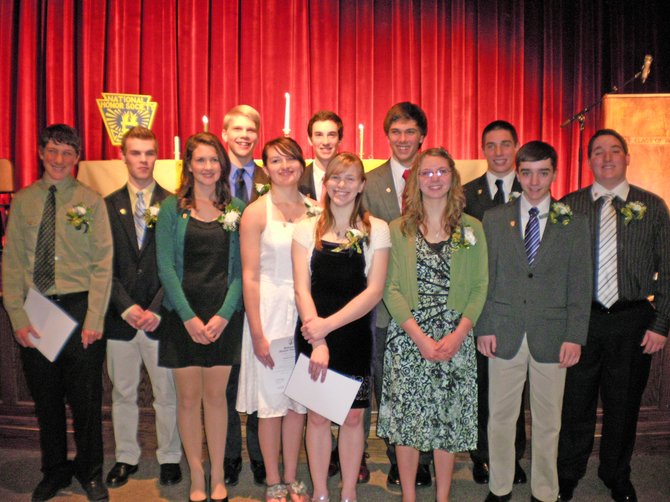 Schroon Lake — Becoming a member of the National Honor Society requires more than academic success.
A dozen new inductees to the Schroon Lake Central School National Honor Society chapter were reminded of that during ceremonies March 5.
Scholarship, service, leadership and character are the core values of the National Honor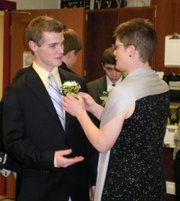 Society. A color candle representing each trait was lit by chapter members.
Character was represented by the color green, a fact highlighted by guest speaker Jane Claus.
Claus sang a song and used props to stress the importance of "being green" — emphasizing character. She challenged students to strive for excellence as a person, not just as a student.
The Schroon Lake chapter then inducted Claus as an honorary member.
New members of the Schroon Lake National Honor Society are Brandi Busick, Jessica Grey, Mitchell Beers, Jonathan Kowalka, Daniel Maisonville, Clare Whitney, Samuel Foote, Justin Lough, Ian Lowe, Caleb Maisonville, Robert Rose and Abigail Wisser.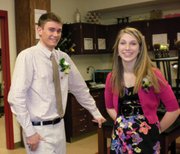 To be eligible for induction a student must have an 85 average of better and demonstrate the characteristics of the society. In Schroon Lake students with the required academic average were selected by a vote of faculty and staff.
The induction of 12 students is unusual at Schroon Lake and swelled the chapter membership to 18. This is the first time sophomores have been eligible for induction at Schroon, so sophomores and juniors account for the new membership.
Others members of the local chapter include President William Lowe, Jonathan Lough, Sarah Derosier, Tiffany Messing, Katelyn Rose and Matthew Savarie.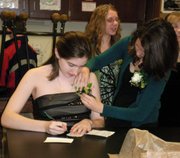 Lowe welcomed the community to the ceremony, Savarie led the Pledge of Allegiance and Messing introduced Claus as guest speaker.
Bonnie Finnerty, Schroon Lake school superintendent, congratulated the new inductees.
Following the induction ceremony NHS chapter members greeted the public in a receiving line prior to a dessert reception.
The event was planned by the Schroon Lake National Honor Society Faculty Council. The council includes co-advisers Cookie Barker and Rita Herbst, Sarah Behm, Beth Buell, Laura Corey, Mat Riddle and Wendy Sargent.
Vote on this Story by clicking on the Icon