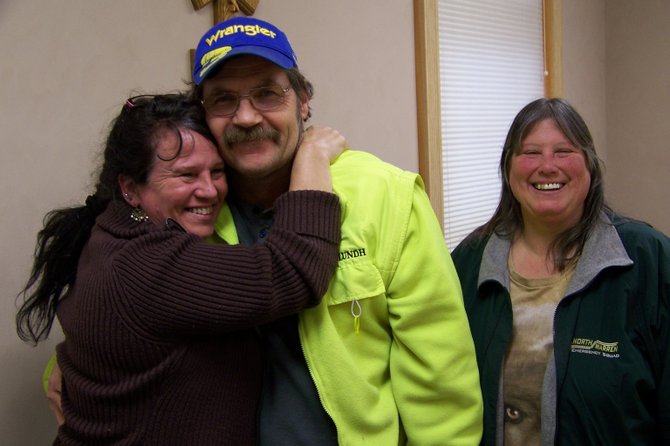 CHESTERTOWN — Gazing at her husband Jeff, Tanya Wemett's eyes filled with tears.
"He's my miracle man," she said, recalling recently how the fast actions of North Warren Emergency Medical Services personnel saved his life when he suffered a full heart attack in late October.
Jeff Wemett looked back at Tanya and smiled.
"It's good to be alive," he replied.
Tanya and Jeff joined North Warren EMT Laura Eklund Feb. 23 in recalling how emergency responders, doctors, and the Wemett's son Nolan brought Jeff back from the edge of death.
Mid-day on Oct. 29, Jeff Wemett had been in the garage of the Wemett's Landon Hill Road home, changing tires on the family jeep.
Jeff walked back into their home, telling Tanya he was experiencing some heartburn.
Knowing that Jeff rarely complains, Tanya knew something was wrong.
Minutes later, he was seated in a chair, eating a tuna fish sandwich.
"I was sitting watching television, and all of a sudden, I got chest pains," Jeff recalled. It was 1:30 p.m. or so.
Jeff was feeling numb, experiencing tingling sensations in his body. It would be his last memory of the day.
Tanya then asked Jeff if he wanted her to drive him to get medical attention. Jeff blurted out one word in response:
"Ambulance," he said in a near-grunt.
"I called 911 — I was just a basket case," Tanya recalled. A Warren County dispatcher contacted the North Warren squad, relaying the message that a man in his early 50s on Landon Hill Road was having difficulty breathing.
All of a sudden, Jeff started twitching, and Tanya dialed 911 a second time, reporting that Jeff was apparently experiencing a full cardiac arrest. The dispatcher repeated the alert, upgrading the severity of Jeff's condition.
Jeff was not breathing.
Jeff and Tanya's son Nolan, 23, then pulled Jeff out of his chair as Tanya supported his head.
(Continued on Next Page)
Prev Next
Vote on this Story by clicking on the Icon