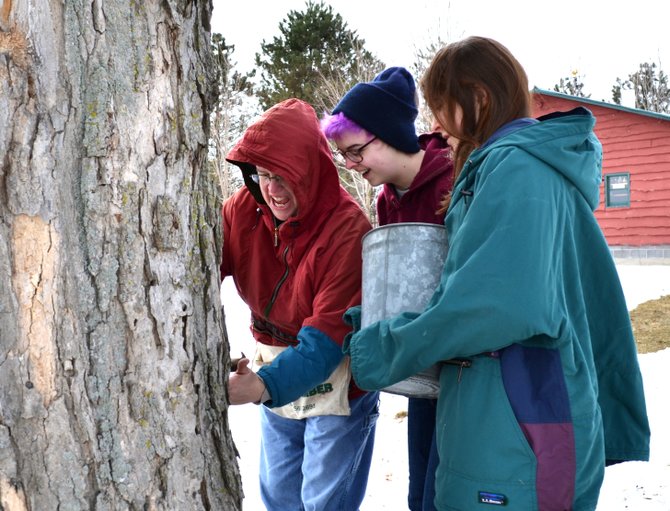 Chazy — Though the North Country is wrapping up a weird winter, local maple syrup producers say it's business as usual, and the crop so far is clear and sweet.
Lighter syrups come from higher sugar content sap because the sap doesn't boil so long before it's ready. Light sap's preferred for value-added products like maple candies and creamed maple. Richard Atwood, the fifth generation to run his eastern Altona sugarbush, said the sap he's drawn so far is producing the good stuff.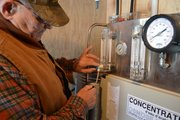 Over at Parker's, a 30,000 tap operation down the road from Atwood's, they've already hit 15 percent of their expected seasonal output. The maple season usually lasts from March to mid-April, though larger local producers had early draws that put them ahead of schedule.
With little snow leading up to the maple-making months, those producers and the family at Sanger's in West Chazy said getting the taps into trees and lines checked has been much easier this year than last, when snowfall was constant.
Kim Sanger said last summer's tropical storm made a mess of their woods, but with low snow, clean-up was a breeze.
Atwood is usually strapping on snowshoes and handing them out to his woodsmen helpers. This year, a pair of good boots did the trick.
"The low snow was a real blessing," said Atwood. "It's the nicest tapping I've ever experienced."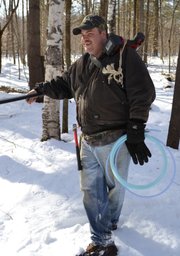 Shannon Moore, who's helped Atwood in the sugarbush for the past five years, said hauling gear and tripping over vacuum tube lines in snowshoes is exhausting and time-consuming.
The weather's still unpredictable. Though some producers had a vigorous early run, a cold snap as February changed to March shut down the sap flow, and following a 40-degree Saturday, March 5 saw temperatures well below freezing.
Precipitation is vital this time of year, too.
(Continued on Next Page)
Prev Next
Vote on this Story by clicking on the Icon