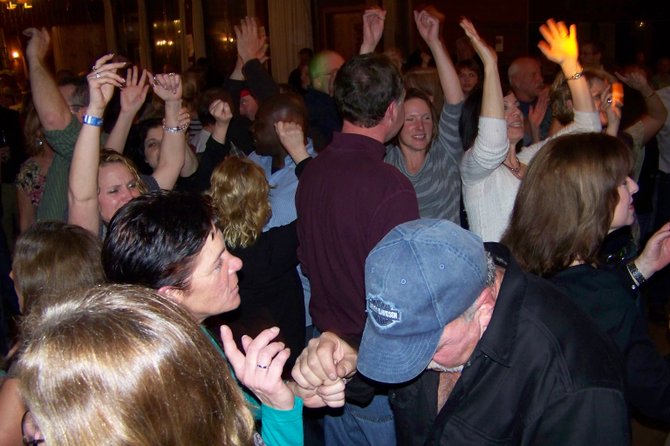 continued — "This is an amazing event — great bands, super people," he said. "There's not another event in the North Country like this."
Jeff Garry of Roaring Brook noted the event has a regional draw, and this year attracted cook-off competitors from North River to Northville in Fulton County.
Winning third in the popular vote was Vic's Tavern of Northville. The President's Award went to Upriver Cafe of Lake Luzerne, and the Hot Stuff award went to Marketplace Steakhouse of Bolton Landing.
Garry said the "reach" of the event has been expanding during its 21 years in existence. New competitors this year included Garnet Hill Lodge in North River, Holiday Inn of Lake George, Marketplace Steakhouse, Pete's Ahh of North Creek, Pub on 9 of Bolton, and Ranchero's Steakhouse of South Glens Falls, Garry said.
"New restaurants breathe new life into the cook-off every year," he said.
But Bands & Beans would be a huge event with or without chili — it's all about the socializing and music, Garry said.
"It's energetic, enthusiastic, and the incredible crowd annually gives an uplifting start to Spring," Garry said.
Near the conclusion of the party on Sunday, Arts Project Director John Strong was sitting in the musician's lounge staring off into space, chilling out after a long day setting up audio equipment and arranging all the details.
He said the event raised $20,000 to go towards his organization's arts and music programming for 2012 in Lake George.
"Years ago we'd get 50 phone calls or more right before the event. This year, the phone didn't ring, and we thought 'Omigod, is anyone coming?' — And here we have 1,000 or more people packing the place. People are now sharing the news via social media and texting."
Shawna Hart, 27, of Glens Falls was one of those who texted "Let's Go!" to her friend Theresa Zielonko of Queensbury. For years, Hart — a waitress and bartender at Lake George Holiday Inn — had covered for her co-workers on the first Sunday in March so they could attend Bands 'N Beans. This year, she arranged the day off, Hart said.
"I love this — it's a gathering where everyone is in such a great mood," Hart said, relaxing for a few moments, away from the shoulder-to-shoulder crowd letting loose on the dance floor.
"There are so many bands, and I'm amazed at the number of people here," Zielonko replied. "Plus I'm a big chili fan."
Hart added her thoughts.
"This is like going to a big concert or something," she said. "It's the music and unbelievable atmosphere."
Vote on this Story by clicking on the Icon