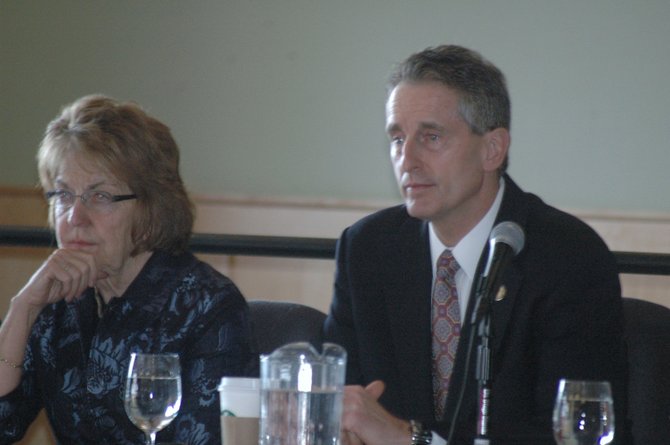 continued — He then turned the microphone over the Vice Chairman and North Elba Supervisor Roby Politi.
"New York State cannot continue to pass off costs to the county budgets," Politi said.
Politi and Essex County Manager Daniel Palmer brought up the issue of the county paying for busing services for Head State programs.
"Why is a county in the education business," Politi said. "Why is this not being done by the people who have the expertise on this matter."
"We would like to contract out with the schools, but we can't," Palmer said.
Palmer also brought up the need for Medicaid relief.
"For every man, woman and child in the county, I have to allocate $171 per year, per person," Palmer said. "The new cap that the Governor has proposed is a good step, but this year it will only result in a one-penny savings on my tax rate."
Palmer also said that he was concerned with the state and counties being on different fiscal years, because it leads to reductions from the state funding in the middle of the county budget year.
"I wish that there was some rule that said you cannot reduce my funding during my fiscal year," Palmer said. "We need to know when we build a budget that the revenue that we are anticipating is the revenue that we are going to get."
Franklin County officials said that they were committed to the two-percent tax cap, but that it was not easy.
"Our decisions to reduce costs and live within the tax cap were extremely difficult ones," Franklin County Legislator Gordon Crossman said. "We recognize the efforts of the Governor to reduce property taxes. But without mandate relief, there are going to be increasing concerns to the counties."
"There are places that are different because they chose to be very fiscally responsible before the tax cap and now it feels that they are being penalized for that," Warren County Chairman and Queensbury Supervisor Dan Stec said. "Mandate relief is linked together as part of this process. We have two mandates that by themselves that are putting us above the two-percent tax cap. You put our nine mandates all together, and you are looking at double the tax cap."
This story was updated to correct a misspelling of Janet Duprey's name.
Vote on this Story by clicking on the Icon