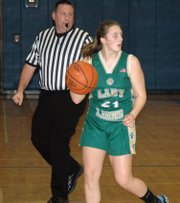 continued — "We need to have size on the two post players they have," Lions head coach Don Ratliff said. "We have practiced against a screen and roll offense, and we do have a plan in place for them. We watched them play Westport and learned some stuff."
For the Orange, Meg Smith has averaged 13.5 points in the sectional playoffs along with 8.5 rebounds. Shannon Farrell has added 10.0 points per game, while Jessica Bain has averaged 7.0 points, 6.5 rebounds, 4.5 steals and 4.0 assists over the two games. Abigail Darling has averaged 7.0 points, with Sydney Hinckley averaging 6.0 points and Morgan Hinckley averaging 1.0.
The Lions have been led in sectionals by their trio of scorers, with Lily Whalen averaging 17.5 points per game, while Kearsten Ashline and Shonna Brooks have each averaged 10.5 during the sectionals. Savannah Graves has averaged 7.0 points and seven rebounds off the bench, while Angel Barnes has averaged 5.0 points and 8.0 rebounds, also off the bench. Jennifer McGinn has averaged 5.5 points, while Kylee Cassavaugh recorded four points and six steals in the semifinal round against Willsboro and Clare Harwood grabbed six rebounds in the same game.
Vote on this Story by clicking on the Icon