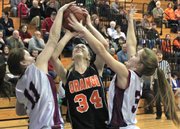 Plattsburgh — The Indian Lake/Long Lake Lady Orange are making their second trip to the Section VII/Class D girls basketball finals in as many years.
The defending champs, seeded third this year, defeated 2011 finalist Westport Feb. 28 in the semifinal round, and wil now face top seed Elizabethtown-Lewis Friday, March 2, with a tip time of 4 p.m. at the Plattsburgh State Fieldhouse.
The Lady Lions, who enter the championship game with a 18-2 season, are looking to avenge one of their blemishes on the schedule, a 41-21 defeat at the hands of the Orange during the Mountain and Valley Athletic Conference regular season, the same thing that the Orange did in the semifinal round when they beat the Eagles.
"We just want to make last year's seniors proud of us," Orange player Jessica Bain said. "We saw how much pride people took in this team last year, and we want to make them feel that pride again."
Class D match-up
(3) Indian Lake/Long Lake Lady Orange 17-2
John Reynolds, coach
Projected starters:
3 - Shannon Farrell
12 - Morgan Hinckley
15 - Jessica Bain
24 - Sydney Hinckley
34 - Meg Smith
Bench:
10 - Emily Waters
11 - Morgan King
20 - Chelsea Walters
22 - Ranya Hamden
23 - Shaneka Burch
30 - Abigail Darling
33 - Kaylyn Bennett
35 - Prudence Dechene
(1) Elizabethtown-Lewis Lady Lions (18-2)
Don Ratliff, coach
Richard Cutting, assistant
Projected starters:
11 - Clare Harwood
12 - Kylee Cassavaugh
21 - Lily Whalen
23 - Shonna Brooks
32 - Kearsten Ashline
Bench:
5 - Emily Morris
10 - Jasmine Barnes
20 - Jennifer McGinn
25 - Savannah Graves
52 - Angel Barnes
"I am so proud of these kids because a lot of them did not get a ton of playing time last year, but we had very competitive practices and they all stepped up," Orange head coach John Reynolds said. "During sectionals, the juniors have turned into seniors and the sophomores have become juniors."
(Continued on Next Page)
Prev Next
Vote on this Story by clicking on the Icon