Lake Placid — Three town supervisors say they may have an interest in running for Teresa Sayward's 113th Assembly seat this fall.
Sayward, who has been in the state Assembly for the past 10 years, will be retiring at the end of the year. The chairmen of the Essex and Warren County Board of Supervisors as well as the supervisor of the town of Moriah are seen as possible replacements.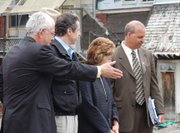 When elected to his third term as chairman of the Essex County board, Jay Supervisor Randy Douglas, a Democrat, said that he had no intention of seeking a state office unless there was a retirement.
"Trust me, I didn't know that this was going to happen at that time," Douglas said jokingly. "But it is something that I would have to consider at this point."
Douglas said that his top two concerns are for his family and his constituents in Jay and Essex County if he decided to run for the Assembly seat.
"We are all still recovering from the floods, so I do have to look at that," Douglas said. "There are other concerns, but my family and the constituents are at the top."
Douglas said that he will most likely make a decision after a March vacation with his family.
Warren County Chairman Dan Stec, a Republican, said that he received a call March 1 from Sayward informing him of her decision.
"I have expressed interest that I would be inclined to run for her seat," Stec said. "I do not think that I am as much on the fence about it as other people are."
Stec said that he was interested in the position 10 years ago, when he was a member of the Queensbury town council.
"I was encouraged to take some time and get some more experience," Stec said. "I took that advice to heart and have now served as the Queensbury supervisor and chairman of the county board for the last two years. I feel that I now have that experience."
(Continued on Next Page)
Prev Next
Vote on this Story by clicking on the Icon