Huchro, who served as Westport supervisor from 1968 to 1991 and also for five years as county administrator, gave a number of examples, from town supervisors each fighting to keep courthouses in their towns rather than centralize to the recent fight over privatizing the Horace Nye Nursing Home.
He said some supervisors simply could not vote in favor of privatization — even if they believed it was in the best interest of county taxpayers — because constituents in their respective communities did not support it.
"Take Moriah," Huchro said. "Forty percent of the nursing home employees are from Moriah, so Tom (Scozzafava) has to vote in the best interest of his town, not the county. He can't look at the big picture."
Scozzafava voted against privatization.
Conversely, former Elizabethtown Supervisor Noel Merrihew voted in favor of privatization just before the general election in November. Many of his constituents also work at Horace Nye, and Merrihew's vote to privatize could have been the catalyst behind him being voted out, Huchro said.

Weighted voting
Complicating matters, Huchro said, is the weighted voted system used by the county, which gives greater voting power to supervisors with the most constituents.
A board of legislators would have equal voting power, he said.
"Right now you have three towns that can basically control everything that happens with just one other vote," Huchro said.
The "Big Three" as Huchro called them, are the towns of Moriah, North Elba and Ticonderoga.
Moriah Supervisor Thomas Scozzafava was also on the board in 1990, and was one of the most vocal opponents of the changeover, arguing that a board of supervisors is able to better represent the needs of each town and the people they stand for.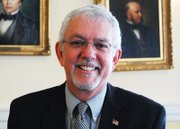 He said during the 1990 proposal, Moriah residents didn't like the fact that the town would be split in half, with two legislators representing the same town.
Vote on this Story by clicking on the Icon