continued — Busy summer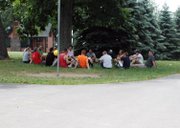 Camp Dudley is going to need all of the food and all of the cabins for the upcoming year.
"We have 350 boys coming for the first half of the season and 340 for the second," Storey said. "This is probably our biggest ever camp, and we have been getting calls every couple of days from people asking if there is room and we have to say no. It's a nice situation to be in, but you hate to say no to anyone."
Storey also said the season set a record for scholarships awarded to attend the camp.
"We gave out close to $700,000 in scholarships for boys to attend, and we feel pretty good about that," he said.
While leaders and staff had been at the camp for the past few weeks, preparations for the season had ramped up as the days counted down to opening day.
"On Tuesday (June 26) morning, there will be 50 people here and by 2 p.m. there will be 500," Storey said. "It's a great time of year as the staff and the campers start to roll in."
Storey is the 12th director of Camp Dudley, YMCA, which was formed in 1885 and has been rooted in Westport since 1908. It is the oldest continually running summer camp in the country and welcomes boys ages 10-1/2 to 15.
Vote on this Story by clicking on the Icon