Willsboro — The Willsboro Central School class of 2012 received the diplomas in front of family and friends June 22.
Class valedictorian Deanna Mero told classmates to work hard for their goals in life.
"You're never too old to reach for new goals," Mero said. "We've all just achieved our goal of completing high school. What's next? Focus on a new goal and plot your course. Nothing great is ever achieved without a lot of hard work and determination ... Whatever you do, do it really, really well. 'Good enough' just isn't good enough."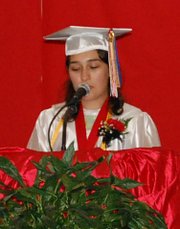 Mero also said that students should make the most out of their paths in life.
"There are many good choices," she said. "Pick one and make it great. You can excel at anything you do if you try your best. Don't ever look back in regret. You made decisions for a reason. You can't change the past, so make the most out of the present while preparing for the future."
Salutatorian Emily Sayward talked about the perspective that each person has and how that makes them unique.
"We are all born different for a reason, and we should embrace our differences, not mask them so we feel like we belong," Sayward said. "Believing in yourself and your ideas shows you are strong and it shows people that you are not afraid to stand up for what you feel is right. Your beliefs come from your perspective on life and that is your own, no one should take that away from you."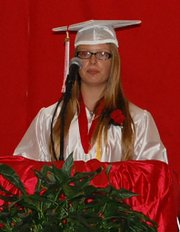 Sayward also thanked those who had helped her and her classmates.
"The ones who have encouraged us to never give up on what we believe and the ones who helped us make it to this day," she said. "The ones who have always been there and will always be there; whether they are in this very room today or they live on in our hearts. I would like to thank all of you because you helped me reach this moment."
(Continued on Next Page)
Prev Next
Vote on this Story by clicking on the Icon