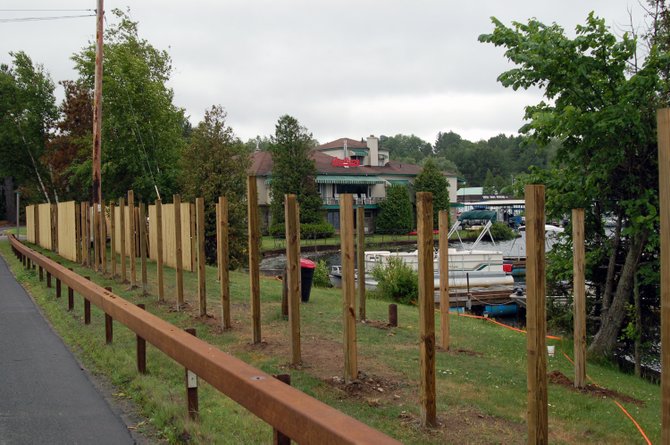 continued — "They can't get to the hostas," she said. "My hostas are safe; they're closer to the house."
This year, the deer are more of problem, according to Nessenthaler.
"They're everywhere," she said. "At one point, we had one deer jump over the garden fence between my house and my neighbor's, and it looked like a Wild West show. I was out there. I had an old wash line. I was trying to scare it to go through the gate to get it up through, and it was an adventure."
She also asked if placing a new gate along the fence would be subject to the fence law regulations.
Rabideau asked Community Development Director Jeremy Evans to answer those questions, and he started with snow fencing.
"Under the proposed law, that would not be permitted, but under extenuating circumstances, I think we would work with somebody at DPW to work something temporarily," Evans said. "Deer fencing would require a permit and would be subject to the height limits that are proposed. And technically I think the gate would be part of the fence and thus would be subject to the regulations of the fence."
Colleen Gowan, who lives around Moody Pond, said she's thankful for the 6-foot height requirement because she's not been happy with one of her neighbor's fences. She also favors a 2-foot setback, which is not currently written into the amended fence law.
"I believe there has to be a 2-feet setback, especially if neighbors are putting up fences because they don't get along or they don't like you, then you really don't want to be on each other's property," Gowan said. "And the fence would have to be maintained, repaired, painted, stained, what have you."
Gowan also said there should be a condition in the law regarding natural looking fences that blend into nature when placed against the forest.
"Obviously if it's a picket fence, a yard fence or whatever on a neighborhood yard, that's one thing, but when it's right up against nature, I hope that's taken into account," Gowan said.
Evans answered Nessenthaler's question about existing fences conforming with the new law.
"If a fence is up right now, then it's in conformance," Evans said. "It would be grandfathered, so there's no need for the village to go around and look to see if fences meet the new law because it will only be subject to new fences."
Vote on this Story by clicking on the Icon