Port Kent — Residents of Port Kent will now be able to do a lot more with water.
After years of usage bans and limitations with the old water system in the hamlet, town of Chesterfield officials have announced the completion of a new water treatment plant, which was unveiled to the public at a open house June 24.
"People will now be able to water their gardens and lawns and wash their cars without worrying about limitations on usage," Supervisor Gerald Morrow said. "The only time that we will ever have any kind of water ban on again is if there is a line break."
Morrow said that the current system has 100 users and 50 more buildings that can connect to the line, but usage in the system could be tripled if needed.
"We now have the capacity to do what you would normally do in a municipal water system," AES engineer Todd Hodgson said. "This means that development can increase, and subdivision can expand and they can all tap into the system."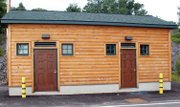 Morrow said that new system also had an added benefit to homeowners.
"We now have the capacity to flush the hydrants in the hamlet," Morrow said. "Now, the homes have fire protection and people need to call their insurance company so they can get their insurance lowered."
The new water plant takes water from Lake Champlain and filters it through three different processes at the plant.
"This plant uses multi-media pressure filtration," Hodgson said. "There are three stages: roughing filtration, polishing filtration and carbon filtration. We are optimizing the first two stages now and then we will start going through the carbon stage."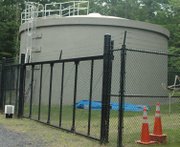 Plant manager Dave Winter said the plant has been working out the kinks as it came online.
"We have been running the plant throughout the spring and have been online since May 21 drawing water out of the lake and filtering it," Winter said.
(Continued on Next Page)
Prev Next
Vote on this Story by clicking on the Icon