continued — Gibbs then took the podium, saying the commencement was particularly moving for him because of his impending retirement.
"In a way, I am graduating with you this morning," he said.
Gibbs said taped behind his desk is a note that reads: "It's about relationships." That is what it all comes down to, he said.
"It really comes down to how much you're willing to invest in relationships — relationships with work, with family," Gibbs said.
Going through each of the 21 graduates in alphabetical order because "that is how I learned it," Gibbs gave an anecdotal description of each senior, and predicted where he or she might be 25 years from now.
He then said the group is stronger together than any one individual and again advised that life is about the relationships they develop along the way.
"Congratulations and all the best," Gibbs said with a large smile, "And go get 'em."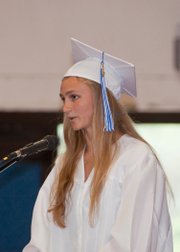 As is tradition, the female members of the class then received flowers from a special child in their lives, and valedictorian Willa McKinley took the podium for the final farewell.
McKinley, who will be attending Connecticut College in the fall, said her life has been shaped by competition and what it takes to win and succeed.
"When I was just 7 years old, I swam in my first competitive swim meet ever, and I won the 25 yard race. That was the first I had ever experienced winning, and from that point on, I was addicted to it," McKinley said.
What she came to understand, however, was that winning wasn't so much an end result, but a process that takes practice, hard work and self sacrifice.
"The process of practice, accomplishments and failures to get to where we want to be in life," she said. "Being here today, we can all say we've won the game of high school, we've beaten it. But we all wouldn't be here on this stage if it weren't for the sacrifices and the steps we've taken to win this game thus far."
Vote on this Story by clicking on the Icon