Westport — Donned in blue and white cap and gowns, 21 seniors officially became Westport Central School alumnus during a mid-morning graduation ceremony Saturday, June 23.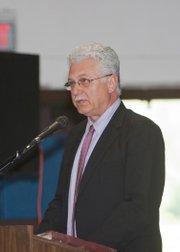 The ceremony was marked by an address by keynote speaker Scott Gibbs — who retired this year after serving 33 years as an English instructor with the district — and an emotionally-charged diploma presentation to a local Korean War veteran who was fighting for his country when his own class graduated high school.
The school auditorium was filled to capacity as family and friends turned out in a show of support. Superintendent Dr. John Gallagher gave a few extra moments before getting under way for the people, who, he joked, "had to park at Ernie's."
Then, as the familiar sounds of "Pomp & Circumstance" filled the space, proud parents spun and strained to get a glimpse of their son or daughter as camera bulbs popped and flashed. The seniors then took their seats of prominence before the crowd, anxious to begin the next chapter in their lives, but, as salutatorian Allison Sherman said, never forgetting the community support they received along the way.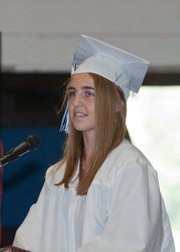 Sherman thanked her teachers, parents and the community as a whole, saying "we truly appreciate all the commitment and dedication you have shown in raising us to be responsible members of the Westport community."
"To all the members of the community, thank you for making Westport an ideal place for spending the first 18 years of our lives," Sherman said.
Sherman, who is attending St. Lawrence University in the fall, said while graduation marks the end of one stage of life, it is only the first of many stages.
"While many of us will continue our educations, the lessons we have learned in this school will serve us well," she said.
(Continued on Next Page)
Prev Next
Vote on this Story by clicking on the Icon