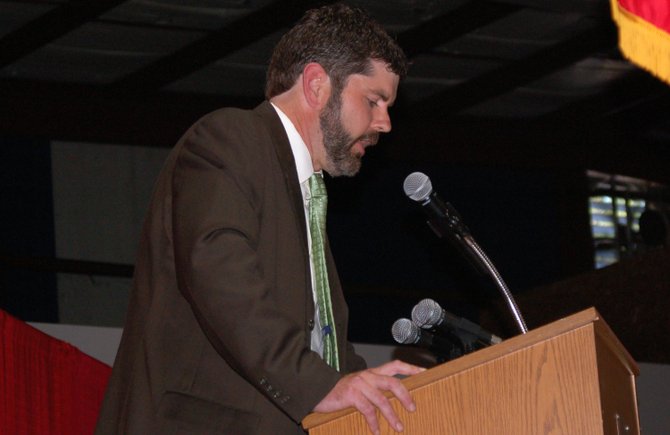 continued — He decided to improve his grades and soon went from being a near-dropout to a dean's list student.
"I got my degree and I did what most history majors do, and I decided on a job in a field that has absolutely nothing to do with history," he said.
Thill worked for eight years for an importer, bringing goods into the U.S. from Canada, eventually ending up in Champlain and meeting his future wife, Nathalie.
"One of the reasons I love my wife is that she, too, believes that an unchallenged life is an unhappy one," Thill said, "which is why 12 years ago she asked me, 'Why are you working in a job that makes you miserable? Get out of Champlain. Why don't you do something that makes you happy, something that you actually enjoy? Why don't you teach history?' A new challenge."
Thill left a good-paying, private-sector job to teach.
"I did this for my own happiness," he said. "I soon discovered the best school district in the area, moved to that district, and now I'm working and raising my kids here in Saranac Lake ... Rising to the challenge, meeting the challenge, that's what makes life worth living."
Valedictorian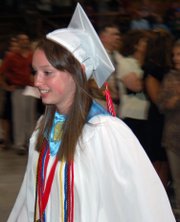 The valedictorian for the Class of 2012 is Summer Schneider, the daughter of Fred and Robin Schneider. She plans to attend Syracuse University, majoring in photographic illustration.
While working on her commencement speech, Schneider was inspired while listening to the Smash Mouth song, "All Star," on her iPod.
"As the second verse began and I was about to sing, 'Well the years start coming, and they don't stop coming,' I stopped myself," Schneider said. "I finally realized what the lyrics meant. All these years, and there's a life lesson in a Smash Mouth song and nobody knew it … We can't let our lives become a routine. Life isn't about doing things over and over again."
Vote on this Story by clicking on the Icon