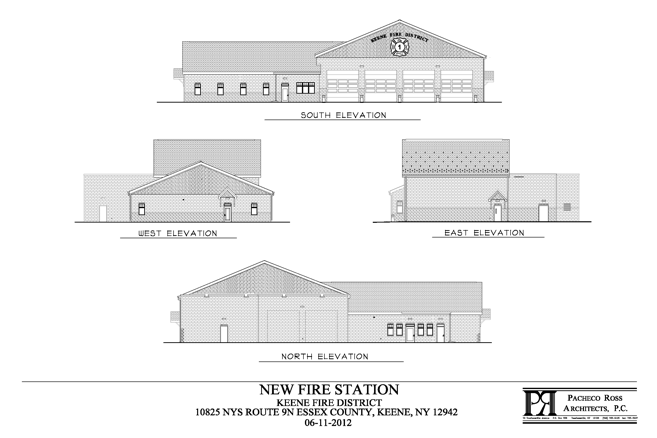 continued — Finances and Fundraising
The total cost of purchasing new land, demolishing currently existing structures, and building the new station in compliance with the emergency structure codes enacted after Sept. 11, 2001, will cost a maximum of $2.3 million. In December, the town applied for $1.5 million from FEMA and recently received a grant notification of $680,000. Insurance paid $635,000. On April 24, a Town referendum to approve the project and a $500,000 borrowing passed by a vote of 116-35. The loan will take the form of a 20 year bond structured so that local taxes won't have to increase to pay it back. Those three sources of funds total $1,815,000 toward the $2,300,000 cost.
"The generous donors to Keene Flood Recovery Fund at the Adirondack Community Trust supported the rebuilding of our homes and businesses," said Keene Fire Commissioner Alan Carey. "With deep gratitude, we must again ask for help, this time for the first responders who protect us all."
The fundraising goal is $500,000. Town members Tom Both, Dave Deyo and Pat Hickey have agreed to lead the private fundraising effort. Already, more than $100,000 has been contributed toward the new fire house, which has helped get the project started.
How to Give
The Keene Fire Department has established a Fund at the Adirondack Community Trust (ACT) to administer gifts for the new fire house. ACT is the community foundation serving the Adirondack region. It administered the Keene Flood Recovery Fund, which recently closed successfully. If you would like to make a tax deductible gift for the fire department's new building, you may send a check payable to the Keene Fire Department Fund directly to ACT at Post Office Box 288, Lake Placid, N.Y., 12946, or contact Executive Director Cali Brooks at cali@generousact.com. You can contact Jody Whitney, Fire Chief, at jcwhit91@gmail.com for more information about the fire department. Information will also be available at the www.keenefiredept.com website soon.
Vote on this Story by clicking on the Icon