continued — Rushby ended by thanking teachers, coaches, advisors and parents for their dedication to the class.
"We thank the parents for all the help that they have given us, hauling us around to practices, fundraisers, games and many afterschool events," he said.
English teacher Sarah Rice paid tribute to the class with a poem about each one, adding that she felt they had the tools needed for the next steps in life.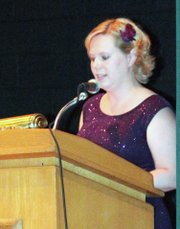 "You are a remarkable group of young adults, and I look forward to hearing about all of your great successes," Rice said. "Most graduation speeches focus on the important building blocks of success. I think that every person on this stage already understand those concepts. They have been raised well."
Rice also said she hoped the graduates would live for the moment.
"Find something meaningful, memorable and important about each day of their lives," she said. "Feel truly thankful for what they have right in that moment. Let people know that they mean something to you."
Brian Gay contributed to this story.
Vote on this Story by clicking on the Icon