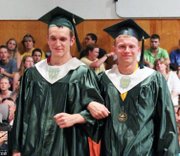 Elizabethtown — The Elizabethtown-Lewis Class of 2012 looked toward the future June 22 with a different take than usual.
"The one question that never fails to be asked is are you prepared," salutatorian Ezekiel Diemand said, "For pride's sake, we all answer that we are when in reality, not a one of us is prepared."
Diemand said that preparation is a life-long process as he and his classmates continue through life.
"Nothing prepares us for that next step which we are all getting ready to go through," he said. "The sooner we can admit how unprepared we are, the sooner we can start to fix our problems and truly prepare for what is ahead. All we can hope throughout our life we learn from our experience and continue to prepare for what we are not ready for."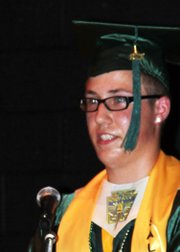 Diemand also said that he hoped the class would allow themselves to live in the present.
"Let yourself be a part of life," he said. "Many people stress out over what they want to major in or what they want to do when those are really just small details. You can have all of the money and fans in the, but without happiness, you have nothing."
Valedictorian Jeremy Rushby talked about the determination that his class showed in school on the sports field and in life.
"The most important thing that we have learned here is how to face challenges head on," Rushby said. "We always put forth a valiant effort against the opponents we faced on the sports field. This class is competitive and works hard to accomplish their goals."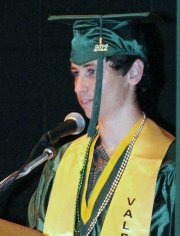 Rushby also took a moment to talk about classmate Brock Marvin, a heart transplant recipient.
"The greatest example of fighters can be found in Brock and his family," he said. "We were very fortunate to have him back for our senior year. He is an inspiration to us all."
(Continued on Next Page)
Prev Next
Vote on this Story by clicking on the Icon