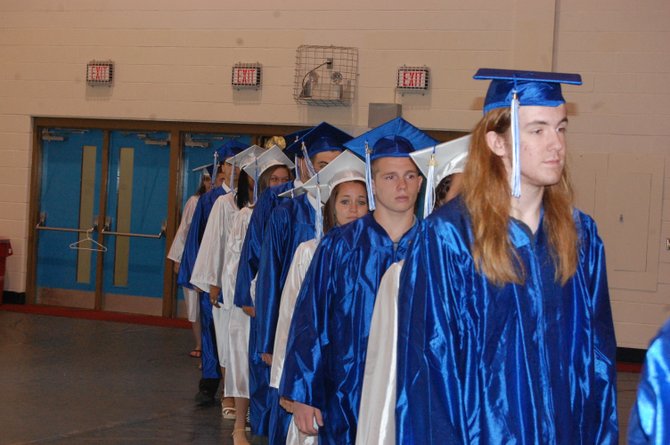 He urged the graduates to keep their eye on the road ahead, and while it is all right to look back in the mirror, do not dwell on it. The future, Scott said, is theirs to create.
"You are not kids anymore," said School Board President Roderick Driscoll. "You need to get started with the rest of your life."
Today is not the finish line, he told them, but the starting line, and they should put their heart into whatever they decide to do.
Guest speaker, Peter McCormick, asked them who helped them pack their parachutes? He wanted to know who stood by their sides, helped them and carried them through a crisis. He said they should identify those people, take care of them and thank them.
As High School Principal Christopher Mazzella stood in front of the packed room, he relayed that the year's ongoing theme was change. The students watched the clip of a homeless man with a cup that read, "change." When people dropped money into the cup, he bought coffee for another homeless person, donated it to a sick child and helped a runaway girl get home.
"The change is a metaphor to create positive change in our school and world," Mazzella said as he looked directly at the class of 2012. "I hope you are going to make great change."
Vote on this Story by clicking on the Icon