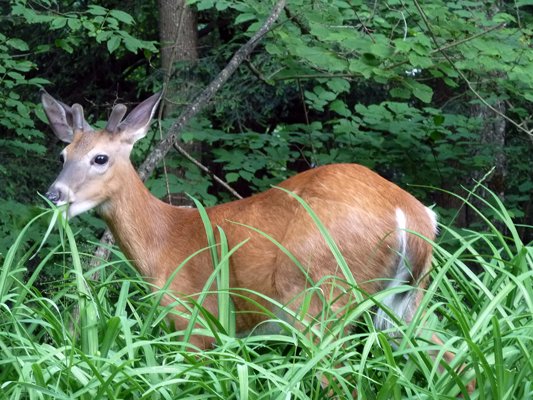 With the paddle, I gingerly reached ahead trying to stay in the middle of the stream. Without being able to focus on a point of reference, I was off kilter, and off balance.
But then, almost as if someone had flicked a switch, the lights came on. Slowly at first, but with increasing frequency, as I made my way further downstream, and out of the alders and into the grassy banks.
The stream banks were illuminated with the steady blinking of lightning bugs, on both sides. In the muggy dusk, after a long day on the water, the lights appeared as if someone had strung a string of lights through the grass.
The scene stirred childhood memories of family trips to visit my Grandparent's in Poughkeepsie, where lightning bugs always seemed to be out in force on the hot, muggy evenings along the Hudson River valley. Whenever we would visit, one of our Uncles would send us out to collect them in a big, glass jar.
And he always paid us a handsome price too, ranging he claimed, on the going rate. He would take as many bugs as we could supply, he once explained, because he later resold them to General Electric.
Even though he was our favorite Uncle, as kids, we were convinced he was getting rich on our hard work. "I'll bet he gets paid a dollar for each one", my older brother once complained. "Let's just go back inside."
Fortunately, I never paid much attention to him; I just kept on chasing fireflies. I have come to realize that in a way… I'm still chasing them, even if the focus of my quest is no longer fireflies.
I continue my search with the enthusiasm of a child, for that is after all, the purpose of outdoor recreation.
Joe Hackett is a guide and sportsman residing in Ray Brook. Contact him at brookside18@adelphia.net.
Vote on this Story by clicking on the Icon