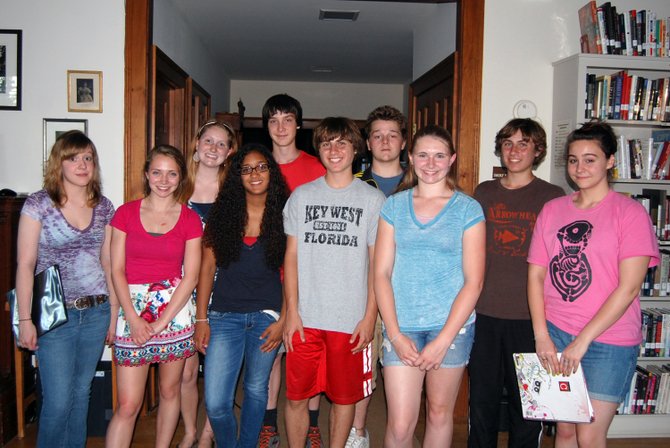 continued — As Vaughn read her poem titled "A perfect world" she read "What if we lived in a world where apologizing wasn't such a hassle, doing a favor didn't make you think twice and racism didn't exist." As audience members listened silently they heard her version of what this world could look like through her eyes.
Scott Gibbs, who teaches high school English said the event has always been a way to take what the students write in class and bring it into the world.
"These events are a way of trying to bring the poetry to life and try to have some fun with it," Gibbs said.
The poetry reading is a wonderful way for the community to become aware of "how really wonderful their work is," Gibbs said.
The Westport Poetry Group meets on the third Thursday of each month, for more information or to participate contact the Westport Library at 962-8219.
Goodbyes to Park
Special recognition was given to Soyoung Park, an exchange student from Laos who has attended WCSD for the past year.
"Soyoung, who epitomizes grace and serenity and has taken whatever we throw at her and has done it with grace," Gibbs said.
Park said that she will be on her way to Los Angeles before heading back to Laos. After coming from living in a big city she said she has really enjoyed the small town of Westport.
"I've really liked the small town better and I'm going to miss everyone and hopefully visit soon," Park said.
Mary Ann Hebrink, Park's family mom said she will cry when they brink Park to the airport.
Vote on this Story by clicking on the Icon