LAKE GEORGE — At graduation ceremonies two years ago, Lake George High School Principal Francis Cocozza promised each year's sendoff for seniors would incorporate a surprise.
Last year, suspended above the commencement audience, he plunged off a climbing wall.
At Saturday's 2012 graduation event, Cocozza delivered on his pledge again — by performing a rap and "spoken word" duet with Senior Richard "DJ" Jelley, exploring the theme "Enjoying the Journey."
"Search for knowledge, challenge your mind, challenge the establishment," Cocozza said in a narrative as Jelley injected street language with a rap beat into the mix.
"Relationships in life are what you make of them — they're what defines you," Cocozza continued, urging the students to strive for integrity, respect and fairness.
Offering mini-speeches focusing on aspects of Enjoying the Journey" were eight of the 10 Lake George Honor students: Jamie Jarett, Mackenzie Perkett, Rebecca Kandora, Hayley Humiston, Courtney Laczko, Stephanie Raven, Patricia Breault and Sean Burden.
Jarett kicked off the series by reading the Shel Silverstein poem, "The Search" — the topic that she, Perkett and Humiston explored.
"We will always remember, and are very thankful for all our friends, families, teachers and coaches who have taken our journey at Lake George with us," Jarett said.
Perkett urged her classmates to not just focus on their destination, but savor the experience along the way.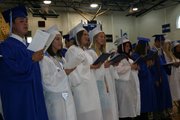 "Life moves pretty fast — If you don't stop and look around once in a while, you could miss it," she said, tracing the students' journey from kindergarten through high school. "Enjoy the life-long memories you've created because today our search together isn't coming to an end, it's a new beginning."
Their classmates followed by illuminating the The Goal, and The Future.
Stephanie Raven observed the students had been setting goals, big and small, all their lives.
(Continued on Next Page)
Prev Next
Vote on this Story by clicking on the Icon