Westport — Students at WestportCentral School made an effort to give back to the local community and practice good citizenship with a day of cleaning at the beach on June 14.


Students in grades 3 through 6 took the day to go to Ballard Park on Route 9N, raking grass clippings and sand, and moving stones and sticks from the shoreline to help prepare the beach for summer swimmers.
"This is a great opportunity for our students to participate and be active in maintaining their community," elementary school teacher Michelle Rawson said.
Bill Johnston, president of the Ballard Park Foundation, said he was very pleased the students came out to help at the park.
"This is a great opportunity to help contribute to the community, and we also want them to realize this beach is for them and is open to the public," Johnston said.
This is the first, of hopefully many more cleanup days Westport Central School will participate in Rawson said.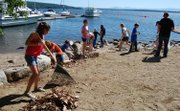 "I hope this project becomes an annual event because it shows students the value of donating their time to help," Rawson said. "So that all can enjoy this beautiful community,"
Upon arrival at Ballard Park, Johnson thanked the students for coming to help.
"I am so glad you're coming down to help, we need all the help we can get," Johnston said.
The students were enjoying the nice weather, and laughing and talking to friends and classmates, as they cleaned the area.
"It's really important to help," third grader Mallorie Waldron said as she swept off the beach steps and removed the old leaves. She said she was happy to help out the park and keep it clean.
"Things get done faster and keep clean more when people help out," Waldron said.

The program is not only a green initiative but is part of WCSD's initiative to give back to the community, Rawson said.
(Continued on Next Page)
Prev Next
Vote on this Story by clicking on the Icon