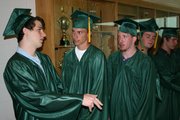 continued — "As we continue to march toward adulthood, I want all of you to remember that we need to be a kid once in a while," Kenney said.
Referring to the class prank, North Warren Principal Theresa Andrew remarked that life's events proceed one after another, like single sheets yanked from the tablets.
"As you pull off your Post-It notes, remember to be honest, work hard, treat people as you want to be treated and remember your roots," she said. "Have a great life journey."
Carstensen also reflected on the progression of life, noting that the Class of 2012 was his first group of students to teach — as fifth graders in 2005 — at North Warren. He noted their academic, athletic, musical and dramatic accomplishments.
"The talents within you are amazing," he said. "You all have much for which to be proud," he said.
Quoting from Ralph Waldo Emerson, he offered an observation on character.
"What lies behind us and what lies before us are tiny matters compared to what lies within us," he said.
NWCS grads have that inner character required to tackle future challenges, whether it's in college, the military or the workforce, Carstensen added.
"Within you is the confidence to make the right choices and the knowledge to execute your plan," he said. "Success, great success, lies within each one of you. Your drive and determination helped you get to this point, and your passion and resolve will assist you on the rest of your way."
Class advisors Melissa Myers and Eric Bott presented flowers and gifts to the graduates, one by one.
Assisted by Superintendent of Schools Joe Murphy, Principal Theresa Andrew presented the graduation awards. Diplomas were granted by school board president Marion Eagan.
The ceremony concluded with the students tossing their mortarboard hats into the air with abandon, then proceeding out of the school auditorium to the strains of "Send Me On My Way," a song by the band Rusted Root.
Vote on this Story by clicking on the Icon