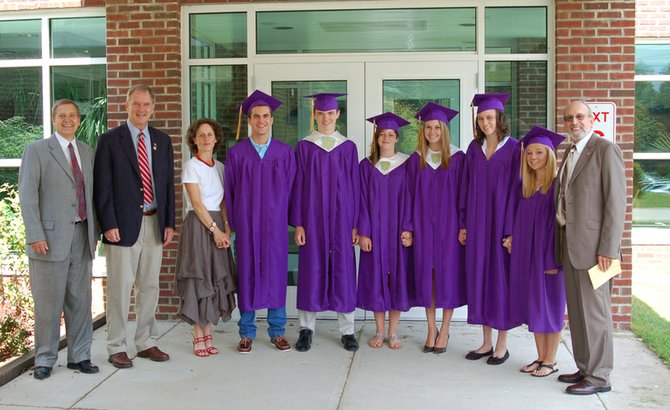 continued — Newcomb has hosted 43 students from 21 countries in the past five years. There were 13 students this past year, from places like Brazil, Spain and South Korea.
During his commencement speech, Owens called Newcomb a model for struggling school districts throughout the country. Newcomb is also offering distance learning with larger districts and the opportunity to earn credits at North Country Community College.
Owens seemed smitten with Newcomb during his speech, calling it "unique."
"You can feel it when you are here," he said.
Owens referred to the New York Times article that profiled Newcomb and its international program a year ago.
"This is a special place because at a time of economic hardship throughout the country, tiny Newcomb, as the New York Times dubbed it, embodies the qualities of perseverance and hard work that make this country great and make me proud to represent this area."
Owens finished his speech with some personal advice for the graduates.
"Make sure every day you find time to laugh, you find time to love and you find time to listen to other people," he said.
Valedictorian
Valedictorian Marlena Peter had a special message for her five fellow graduates: Rebecca Bolan, Taylor Goodspeed, Caelan Gould, Morgan Winslow and Renna Yandon.
"This one of the most exciting and scariest times of our lives, but when I hear someone say 'graduation isn't an end but a new beginning,' I have to disagree; I believe it's both an end, and a beginning," Peter said. "Most of us will be saying goodbye to hours of studying, piles of homework and tough exams, and saying hello to ... more hours of studying, piles of homework, and tough exams. Except for those of us joining the military, in which case we'll be saying hello to drill sergeants."
Peter then profiled all the seniors.
Vote on this Story by clicking on the Icon