Ticonderoga — The Ticonderoga High School Class of 2012 is playing for real now. Graduates are leaving the safety of school and home.
Photo Gallery
Ticonderoga High Class of 2012 Graduation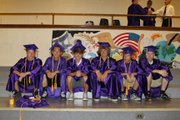 "Today is a day of commemoration, a celebration of hard work over the past 12 years, but it also marks the beginning of a new adventure in our lives," Valedictorian Brandon Russell told classmates during commencement exercises June 23. "Fifth grade graduation? Alright. Eighth grade graduation? Cool. Twelfth grade graduation? Finally!"
Russell cautioned the Class of 2012 that major decisions, some difficult, lie ahead.
"We still have a long and winding road ahead, and the decisions we make now may or may not make the road ahead a smoother ride," he said. "It is important to think through decisions, especially those that determine which road we will choose."
Helping prepare Russell and his classmates to make those decisions has been Ticonderoga.
"One thing that has impacted my decisions to this point is growing up in the small community of Ticonderoga," he said. "Living in such a community, everybody knows everybody, and strong friendships are easy to form. I myself have built strong friendships with many of my classmates as they have with each other. It is time to all head off in our own directions to explore what the world has to offer. Although apart, these friendships will not break their bonds, which is one benefit of living in a small town."
Russell used several quotes from Dr. Seuss to assure graduates their future is bright.
"Just remember, when we apply ourselves, we can take on any challenge with which we are faced," Russell said. "We can move mountains."
The graduation ceremony included the presentation of diplomas, remarks by Principal Mike Graney, performances by the school band and chorus, presentation of awards and scholarships, and an address by Joe Gonyeau, class salutatorian.
(Continued on Next Page)
Prev Next
Vote on this Story by clicking on the Icon