Schroon Lake — Hard work pays off.
That was the message delivered to Schroon Lake Central School's Class of 2012 during commencement exercises June 22.
Photo Gallery
Schroon Lake graduation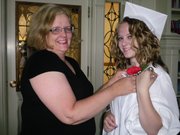 Valedictorian Will Lowe told classmates to rely on "an enthusiastic drive to do one's best." Using an Aesop tale, Lowe urged graduates to work hard.
"Heaven helps those who help themselves," he said. "And it is true; those who show that they are hard workers are more often helped by those who can lend a hand. Keep this in mind as you go through college or whatever your path through life may be, and always roll up your sleeves and get to work when the work has to be done."
Lowe also spoke of growing up in Schroon Lake, recalling years spent with his classmates and teachers.
"While there are some who don't appreciate a small town, I have always thanked God for letting me live in such a place as the Adirondacks," Lowe said. "There are not many places where students can play more than one sport, or much less excel at more than one. There are not many places where you can have the same teachers for three years in a row, well that may be for the best. And there aren't too many schools where the science prep room is taken up by a 300 gallon, chilled, self-sustaining aquatic ecosystem that has housed rainbow trout from half inch sac-fry to 11 inch monsters.
"But all these things that make Schroon Lake Central the way it is could not happen without the people who make up this school community," he added.
Friendships forged at Schroon Lake Central School will last a lifetime, the valedictorian said.
"Abraham Lincoln once said, 'The better part of one's life consists of his friendships'," Lowe said. "I second that. The friends I have made here I will always remember. But there is no doubt that as we continue our lives we will make new friends and will grow further apart. It is a fact of life, but I can safely say that it has been a pleasure getting to know you all, so it is OK to stay in touch. Hearing from you will always be a cause of enjoyment."
(Continued on Next Page)
Prev Next
Vote on this Story by clicking on the Icon