Port Henry — The Moriah Central School Class of 2012 was asked to look back and offer thanks during its commencement ceremonies.
Photo Gallery
Moriah Central School Class of 2012 Graduation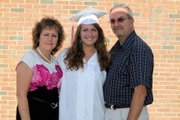 "I thought a lot about what I was going to get up here and speak about — and I have nothing," Valedictorian Andrew King said at graduation exercises June 22. "There's no life lesson I can teach you all, at last not one you don't already know or know of. And I really don't want to get up here and give this big emotional upheaval to the audience and have no one really take anything from it.
"So, recently I went through the elementary (school) and gave thank you cards to all my old teachers," he continued. "It was really nice to show some gratitude to those who helped build me up to the person you see here today. It taught me the meaning of showing gratitude and how you want to leave on a good note and a thank you."
King then thanked his classmates, singling out several. He noted the good and not-so-good times they shared.
"I remember watching the crowning of prom princess," King told classmate Jasmine Callis, "and the moment it got to you, you burst into tears. I really didn't have a good prom, but seeing how much it meant to you made it all worthwhile. Thank you."
The entire Class of 2012 has added to King's life, he said.
"Everyone of you in your own way helped build me up to the person I am today, some more than others," he told fellow seniors. "For the ones that really meant a lot to me I'd like to thank you now."
The Moriah graduation included the presentation of diplomas, awards and remarks by salutatorian Santana Martinez.
Martinez noted the Class of 2012 is a group of close friends.
(Continued on Next Page)
Prev Next
Vote on this Story by clicking on the Icon