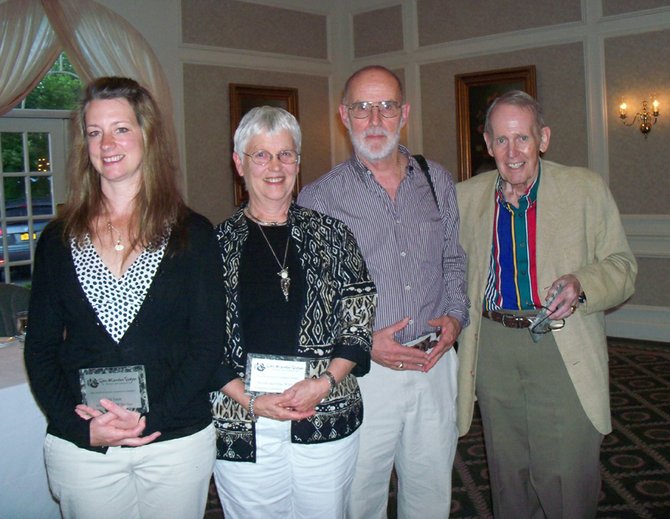 continued — Business of the Year
Sarah Williams, owner and operator of Sarah's Café, received the Business of the Year Award. Last year she celebrated the 10-year anniversary of her opening. Williams said that the recognition of her peers — her fellow business owners, the community, and the Chamber — was the most meaningful kind of recognition she could receive. She looks forward to many years of continuing her business within the community.
Community Service Award
Elise and Woody Widlund received the Community Service Award. It was noted that in addition to donating the Tannery Pond Community Center to the town, they have contributed in many other ways over the years.
They helped raise money for the new library, helped out at the Nursing Home, Outreach Center, Depot Museum, and are active in arts organizations.
Woody said that Dye was "at least one third of the reason" that the Tannery Pond Community Center was created and that without his presence in the community, it would not be what it is today. He added that it was simply their love of the community that he and his wife contributed so much to the town.
Elise recognized the efforts of all the local business owners in helping to make North Creek the successful community that it is. She noted that being an independent business owner has many benefits but requires a great deal of work and personal investment.
"These wonderful, multi-tasking, enterprising individuals right here in our town are driving our economy's recovery and growth by providing good jobs for our neighbors," Elise said.


Vote on this Story by clicking on the Icon