continued — Processing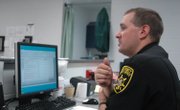 After checking out a potential situation in B Block by playing back the tapes along with Officer Pete Feeley, Officer Denton made his way to booking, where New York State Police were dropping off a man who was arrested in the town of Chesterfield the night before.
Denton was joined by Officer Tom Dorsett, and the two went through the booking process, asking a number of questions to assess the soon-to-be inmates mental state (he admitted to drinking six "tall boys" that night) and to help with classification. The officers also noticed several bruises on the person, calling the facility nurse to take a look at them.
Throughout the process, the officers and inmates exchange small talk, even cracking a couple jokes between each other.
"Once they get away from the Trooper or Deputy who arrested them, you often see them change," Denton said.
"A lot of times they will come in upset or mad," Dorsett said. "We find that as we are talking to them, if we try to be as helpful as we can and maybe even lighten them up a little, it will calm them down and make the process easier on them and us. This was an example of that. Other times, we are not as lucky."
Once processed, the inmate was assigned a bar for his clothing along with items for the jail and escorted into A Block, where he was welcomed by a small spattering of new inmate hazing.
Dorsett said that while he was able to find a place for this inmate, the number of beds to place people were filling up.
"I had about five places where I could have put him," he said. "With the large population of female inmates, it has taken 20 cells away that were usually used for men."
Work paying off
Recently, female inmates from Jefferson County started to again be housed in Lewis. Sheriff Cutting said that was due in part to the way his officers handled the inmates.
"It costs them less to transfer them to Rensselaer," Cutting said. "But when there is a problem with one of the inmates, Albany County wants to send them back. We don't care whose inmate they are, if they are under our roof, we are going to take care of them."
"It's nice to know that people like the work that we do here," Murphy said.
Vote on this Story by clicking on the Icon