Crown Point — Crown Point Central School's Class of 2012 controls its own destiny.
That was message delivered by Marissa Titus, class valedictorian, during commencement exercises June 22.
Photo Gallery
Crown Point Class of 2012 Graduation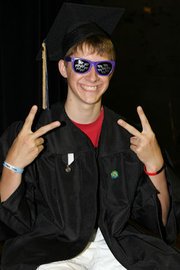 "Today marks a new chapter in our lives," Titus told classmates. "From this point on our futures are up to us. After today, we will all be going our separate ways. We will either go to college, join the services or enter the workforce. No matter what we chose I think that it is important that we set no limits on ourselves. We can literally do anything that we want as long as we put our minds to it.
"We are young and have our whole lives ahead of us," she said. "We can change our minds and take different directions than planned. What matters is that we do something. We have the chance to achieve incredible things and rise above all expectations that have been set for us. So let's do it."
Titus quoted legendary basketball coach John Wooden, who observed, "Success comes from knowing that you did your best to become the best that you are capable of becoming."
That comment reflects the Crown Point Class of 2012, Titus noted.
"The Crown Point Central School Class of 2012 is full of potential and is without a doubt capable of great success," the valedictorian said. "We are an exceptionally talented group of people with bright futures ahead of us.
"The Class of 2012 is an outstanding group," Titus concluded. "I believe that we will all be very successful. There are some uncertainties ahead of us. These should be used as opportunities for us to choose what path we want to take in life. I will miss all of you next year, but I look forward to hearing of your accomplishments. I'd like to leave you with this quote, 'All of our dreams can come true…if we have the courage to pursue them.' Once again, congratulations and good luck."
(Continued on Next Page)
Prev Next
Vote on this Story by clicking on the Icon