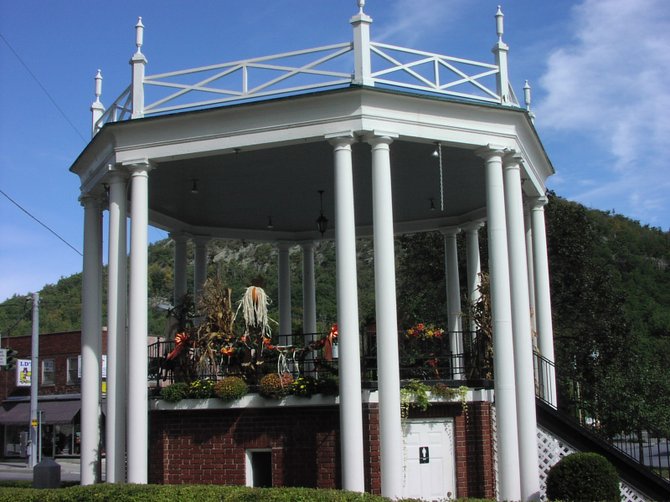 WARRENSBURG — Parking large vehicles along Warrensburg's streets — as is common during town festivals — will no longer be tolerated, town officials vowed at a recent town meeting.
Town Supervisor Kevin Geraghty said that the town government would be enforcing existing parking ordinances, which prohibit large trucks, recreation vehicles and trailers from parking on the streets, because they pose a safety hazard and inconvenience to residents, as well as obscuring street-side businesses.
The board's pronouncement was prompted by incidences occurring during the recent Warrensburg Bike Week event, which concluded June 9.
A truck pulling a large trailer — belonging to a transient vendor — was parked along Main St. and the driver was asked to move it, Geraghty said. The driver did move his vehicles, but unhitched the trailer and left it sitting in front of the local post office, which blocked parking for postal patrons and prompted complaints, he said. The situation prompted a response by town code enforcement officer Chris Belden.
Such incidences are common during the town's massive World's Largest Garage Sale each October as well as Warrensburg Bike Week, Geraghty said. The Garage Sale event attracts hundreds of transient vendors towing large vehicles, and the practice must be stopped, Geraghty said.
"From now on, Warrensburg property owners will have to provide legal off-street parking for vendors they host on their property," Geraghty said. "With the Winnebagos and trailers sticking out into the roadway, it's a safety concern for local homeowners and residents."
He said that fire officials were concerned that during an emergency, fire trucks would be prevented from maneuvering around town.
"We need to keep Main St. and our other streets as open as possible," he added.
In other business at the June 13 town board meeting, it was announced that state Route 9 from Northway Exit 22 up to Chestertown — including Main St. in Warrensburg — is scheduled to be repaved this summer or early fall by the state Department of Transportation. Also slated for repaving is a southern section of state Rte. 28 north of Warrensburg, Geraghty said, citing a notice from state officials.
(Continued on Next Page)
Prev Next
Vote on this Story by clicking on the Icon