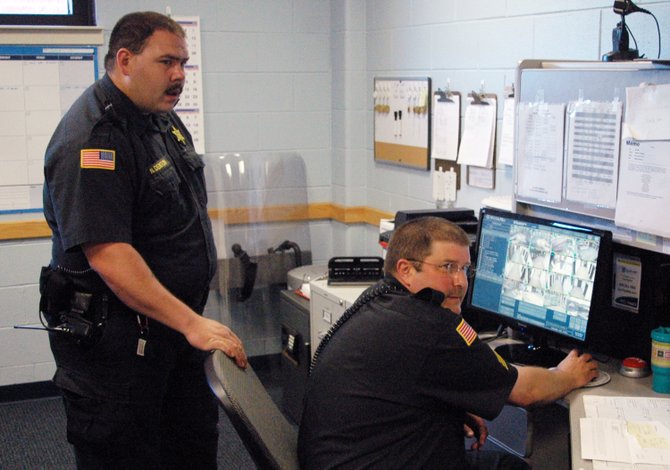 While the day may have started out slow, my chance to follow along with the officers at the Essex County Jail went by faster than any in recent memory.
The morning started at 6:30 a.m., when I met Capt. Tom Murphy in the lobby to the Public Safety Building in Lewis. He took me down to the morning briefing, where it was announced that the jail was currently filled with 95 inmates - with three others who would be coming at the end of the week to serve weekend jail sentences.
Following the briefing, we walked into the jail facility, through several locked doors that were controlled by a central area, and awaited shift change.
That was the slowest part of the day, because while I am working on it, I have very little patience. Officers from the morning shift waited with those from the night shift as the supervisors made sure that everyone was present and accounted - both officers and inmates.
After that, it was into the jail with the officer I was assigned to, Nicholas Denton. We started the day in B Block, where the female population was housed and being served breakfast. Denton did mail call while there, yelling out names and handing mail out to inmates. Three inmates who were not lucky enough to get mail came up asking - almost imploring - if Denton was sure that was all the mail for the day. One even claimed her mail was being withheld.
That was one of the first glimpses into what the consequences were for those who made the choices that had them wearing the ECCF sweatshirts - the lack of outside contact and the desire to attain it.
I was shown the other blocks, including the segregation and workers areas, as well as A and C blocks.
Keith Lobdell is the Editor of the Valley News. He can be reached at keith@denpubs.com
(Continued on Next Page)
Prev Next
Vote on this Story by clicking on the Icon