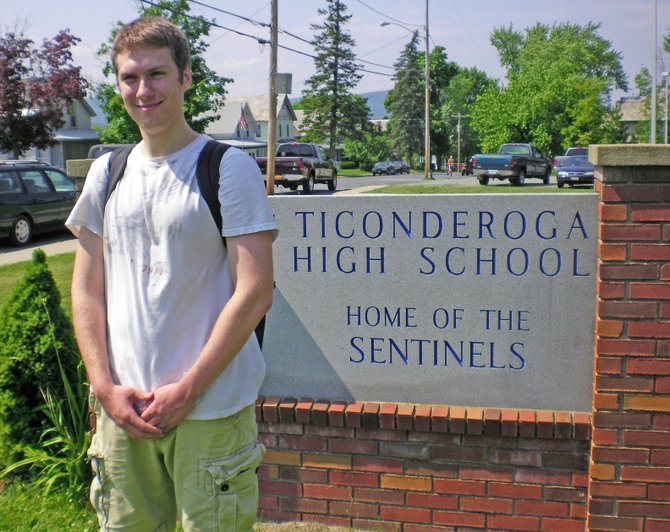 continued — Classmates threatened to tie terSteege to the school flagpole the last day of classes to spoil his streak.
"It's all fun," he said. "I think my classmates were really pulling for me to make it at the end."
terSteege ran track and cross country at Ti High and was a member of the Quiz Bowl team and Key Club. He plans to attend SUNY-Canton to major in business administration.
"When I get to college I plan to attend every class; I don't want to miss a one," terSteege said. "I think it's important to attend class."
Ti High Principal Mike Graney agrees.
"One of the most important things students can do to achieve academic success is going to school every day," Graney said. "In fact, research has shown that attendance may be the biggest factor influencing academic success. Students who achieve perfect attendance have demonstrated a strong commitment to their educational program."
terSteege was recognized for his feat during the school's annual awards ceremony June 7.
Also honored were 34 Ti High students who had perfect attendance this year. They include Kylie Austin, Ethan Bain, Rebecca Barber, Patrick Bright, Aaron Bush, Delaney Bush, James Cook, John Cook, Jeanette Coon, Kaitlin Diskin Joe Gonyeau, Jay Hebert, Nicholas Holman, Dalton Huestis, Lillith Ida, Ben Karkoski, Kathleen LaPeter, Ian Lawrie, Sean Lawrie, Kaleigh Malaney, Zech McLoughlin, Lexi Moore, Kody Parrott, C.J. Raymond, Andrea Russell, Brandon Russell, Victoria Sawyer, Samantha Sommerville, Shelby Spaulding, William terSteege, Dennis Towne, Karrissa Tucker, Anita Zhang and Allen Zhang.  
Five members of this year's senior class had perfect attendance during their high school careers. They include terSteege, valedictorian Brandon Russell, salutatorian Joe Gonyeau, Dennis Towne and Karrissa Tucker.
Vote on this Story by clicking on the Icon