Elizabethtown — Essex County is poised to spend $2,500 to help get rid of an evasive species in Lake George.
The Economic Development/planning and publicity committee of Essex County moved a resolution to the full board to give the money to the Lake George Association (LGA), which is in the second year of an Asian Clam eradication program on the waters that border Ticonderoga.
"I know that Essex County only has a little portion of the lake, but this is a lakewide issue that needs to be dealt with," LGA Executive Director and Ticonderoga resident Walter Lender said. "This is a lakewide project. We want to eradicate it while we can, which is now."
Lender said that the project has been effective over the first year, when the county also gave $2,500 to help deal with the problem.
"We feel that when we are done, we will have irradicated the problem to where we will only have to work with spot treatments to kill of the remaining Asian Clam population," Lender said. "The big investment is last year and this year."
Lender said that dealing with the Asian Clam infestation was also a concern to the regions pocketbooks.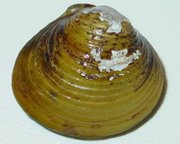 "It's an issue that is important to the local waterways and the local economy," he said. "Feed off the nourishment in the lake and take away from the native species, and their shells are something that you do not want to be walking on."
Overall, Lender said that LGA is making an $800,000 investment into the issue this year, along with the help of the counties and communities that call Lake George theirs.
"It's critical to our economy, that lake," Moriah Supervisor Tom Scozzafava said. "It is money that is well spent. This is something that is definitely tourism-related, and I think that we should look into using some of the bed tax money for that."
(Continued on Next Page)
Prev Next
Vote on this Story by clicking on the Icon