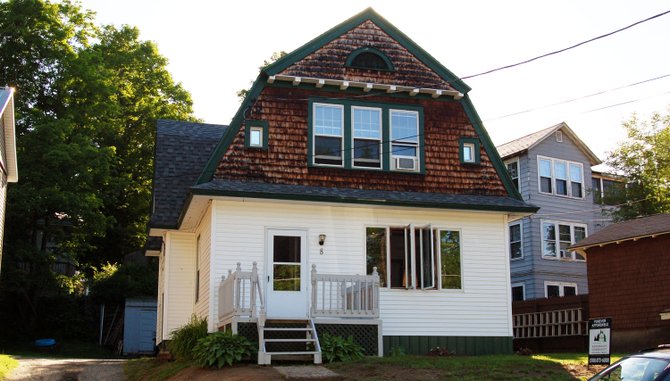 The Adirondack Community Housing Trust Tuesday, June 5, held an open house for the home it is reselling at 8 Fawn St. in Saranac Lake.
"It's the first resale that we've ever done," said Emily Kilburn, administrator of the Adirondack Community Housing Trust, based in Elizabethtown.
Five families attended the open house, touring the upstairs, downstairs and back yard of the Fawn Street home. It was purchased several years ago for $118,000. With the Housing Trust picking up $15,000 of the principal, the mortgage was reduced to $103,000 for the homebuyer.
And that's the key to the Adirondack Community Housing Trust. Reduce the price of a home so people can afford to live and work in the Adirondack Park. "Forever Affordable," is what the Housing Trust calls it. With real estate prices continuing to grow, this program was created through state legislation in 2007 to make sure that working families don't get priced out of the Adirondack housing market.
It all started with a $1 million grant secured by Sen. Betty Little (R-Queensbury) in 2007. Now the Housing Trust has 14 homes in the Adirondack Park, and one more will close in Saranac Lake in July. There are 10 homes in Essex County, two in Franklin County (Saranac Lake), one in Warren County (North River) and one in Hamilton County (Indian Lake). Four of the homes are with Habitat for Humanity.
The Housing Trust offers direct financial assistance for first-time homebuyers who qualify. Assistance can include closing costs, loan principal reduction and home repairs.
The three-bedroom, 1.5-bath home at 8 Fawn St. received $25,000 in repairs from the Housing Trust, including a new roof, pellet stove and a commercial kitchen. Now it's back on the market, as the homeowner is moving away. The house is appraised at $147,500, and the Housing Trust is selling it for $116,600.
(Continued on Next Page)
Prev Next
Vote on this Story by clicking on the Icon