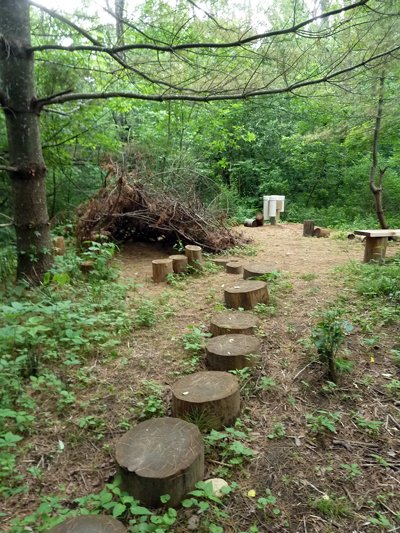 Car shows and rallys have become an increasingly popular component of the local outdoor recreation spectrum. The recent event certainly provided an enjoyable opportunity to mingle among the participants, and to hear their stories.
The Old Footbridge
While visiting Elizbethtown, I took an opportunity to visit many of my old haunts and fishing holes, to see how they had weathered the storm.
Although I had already paddled the Boquet a couple of times, it was my first opportunity to access the status of The Branch, a much smaller stream that flows through the very center of the community.
I began my up stream journey at a junction pool in the center of the village, where Bartons Brook joins with The Branch.
I waded the stream all the way to The Footbridge, which in my younger years featured an old dam that was a popular swimming hole. Although the pond was quite small, many local youth learned to swim at the footbridge since it was easy an place to walk or ride a bike.
While devastation from the flood was evident all along the river corridor, I was thrilled to discover some of the recent renovations that have occurred at The Footbridge Park. The effort has resulted in an incredible new leisure area, complete with a unique, natural playground that meanders through the local woods.
The new, all natural playground features a fully accessible stone dust path that meanders through the surrounding woods and leads to a variety of stations for youngsters to explore. It is a model for the wise use of the woods, and it provides a safe, engaging and entertaining complex that is makes a visit to the woods nothing but fun!
The trail was developed through a partnership between the Essex County Health Department and the NYS Department of Health, and although it was intended for a target audience of 2-5 year olds, the 'stations' offer something for wanderers of all ages.
The Footbridge Nature Trail features a wonderful climbing wall, tree forts and tree houses, a rope maze, stump-jumps and a variety of natural musical instruments including chimes, drums and a unique, Tune-Dome that was constructed from an old propane tank.
Fortunately, for parents there are also plenty of benches, picnic tables and sitting stumps along the river corridor.
Although the new trail complex has not yet attracted a lot of visitors, I expect it will become a very popular venue once it is eventually discovered.
Joe Hackett is a guide and sportsman residing in Ray Brook. Contact him at brookside18@adelphia.net.
Vote on this Story by clicking on the Icon