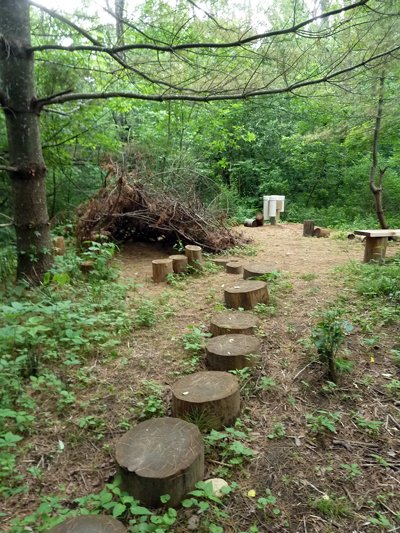 Last weekend, I returned to Elizabethtown to attend the opening of the new, Raging Rivers exhibition at the Adirondack History Center Museum. Raging Rivers: A Mind of Their Own is a theme that will continue throughout the summer with a series of History Center lectures that explore the effects and after affects of two centuries of Adirondack floods.
The new exhibit includes images taken by numerous professional photographers, as well as other local residents. It provides a visual summary of the immediate destruction, as well as the after affects of Hurricane Irene.
The exhibition of still photographs are complimented by a video produced by photographer, Nathan Farb. In addition to the photo exhibit, museum staffers also utilized a variety of items that were taken from the river after the flood to create several intriguing displays of 'Debris Sculptures.'
The sculptures provided graphic, hands-on evidence of the damage caused by the storm, and for many visitors, the experience proved to be both an emotional, as well as a cathartic opportunity.
I spoke with numerous visitors about where they were, and what they were doing when the high water hit, and it was difficult not to be moved by their recollections. It was a natural tragedy that was shared by many, and it will be remembered by all.
I would encourage anyone who hasn't recently visited the old museum on the 'Town Hill,' to stop by. The Adirondack History Center features 'our history' and it won't disappoint.
Saturday's event also included a car show that attracted numerous antique and classic motor vehicles, including several "horseless carriages."
While strolling among the cars, I was immediately put at ease by the friendly atmosphere and the lively banter that surrounded the show's participants. The collection of antique and classic vehicles was nearly as impressive as the host of characters who own, and restore them. And as many jokingly explained, there were probably more antique owners on site, than there were antique cars.
Joe Hackett is a guide and sportsman residing in Ray Brook. Contact him at brookside18@adelphia.net.
(Continued on Next Page)
Prev Next
Vote on this Story by clicking on the Icon