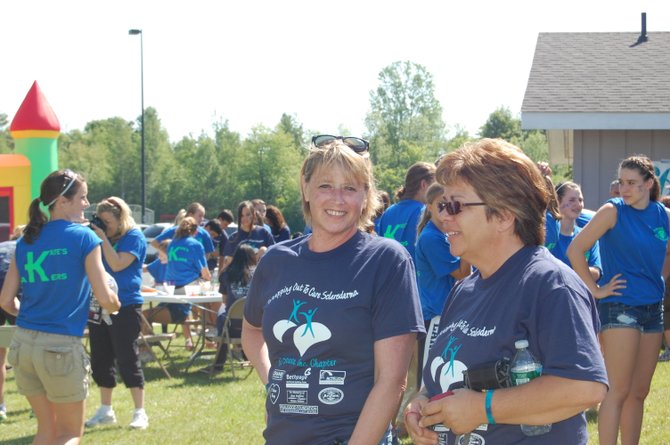 BEEKMANTOWN — When doctors diagnosed Wendy Faubert with Scleroderma in 2005 she rushed online, where the Internet told her she had five years to live.
"I couldn't read it after that."
Today, she continues to fight and recently helped out at the 4th Annual Randy Duprey Memorial Scleroderma Walk/Run in Beekmantown.
The event raises money for the Scleroderma Foundation and also helps cover medical costs for others diagnosed with the disease.
"This helps out, because the medical bills are excessive," Faubert said.
Scleroderma is a chronic connective tissue disease generally classified as one of the autoimmune rheumatic diseases.
Symptoms vary from individual to individual and the effects of the disease range from mild to life threatening, impacting the skin and internal organs. Death occurs most often from pulmonary, heart and kidney complications.
The cause of the disease, which affects an estimated 300,000 people, is unknown.
Kate Duprey's husband, Randy, was 22 when he was diagnosed.
The community helped the family keep its head above water, and Randy consistently told his wife his mission was to pay it forward.
In October of 2008, Randy went into heart failure. He died in January 2009.
"In March of 2009, I thought we needed to do something," said Kate.
That thought gave birth to the first Walk/Run to raise money for the Scleroderma Foundation, a nonprofit supporter of research in the United States that has allotted nearly $14.2 million in research funds since 1989. The event in Beekmantown also raises money to help cover medical costs for those diagnosed with the disease.
This year, the event raised $3,900 for local efforts and $7,500 for the Foundation.
Anyone with Scleroderma should contact Kate at beball34@charter.net or 569-7927.
Kate is also motivated by she and Randy's son, Alek, who is four now and has a 1 in 100 chance of being stricken by Scleroderma.
(Continued on Next Page)
Prev Next
Vote on this Story by clicking on the Icon