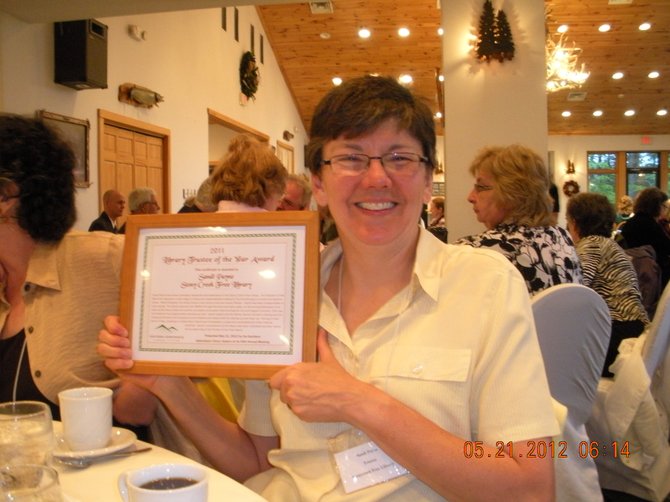 continued — "Sandra Payne has shown exemplary leadership and dedication," he said.
In addition, Payne has focused on the library's future, helping develop ongoing plans to expand the library's facilities. Plans now call for the library to move into the former Methodist church next door, and perhaps build an addition to the structure in the process.
Brosseau and Dallas both noted that during the ravaging 2011 Memorial Day weekend floods, Payne responded as floodwaters swamped the library. Brosseau said Payne waded through water flooding the facility to retrieve materials, help clean up, then help coordinate compensation with an insurance firm, Brosseau said.
"Sandi's commitment to the library has been unlimited," he said.
Dallas offered a similar thought.
"Sandi is not afraid to roll up her sleeves and get done whatever needs to be done," she said.
Payne said the "Trustee of the Year" award came as a surprise.
"I'm extremely honored and touched," she said. "The Stony Creek Library is an awesome place — since 1921, it's been a cherished part of our community, and I am pleased to help continue the tradition as we move into the future."
Vote on this Story by clicking on the Icon