Ticonderoga — Jay Hebert has established himself as one of the most successful Section VII track and field athlete ever, but the Ticonderoga High School sophomore is just beginning his career.
"He could very well be running in the Olympics in four years," Walter Thorne, Ticonderoga track coach, said of Hebert. "He has that kind of ability. He hasn't reached his potential yet."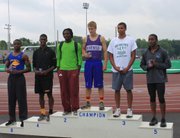 Olympics? That may sound a bit far-fetched for a Ticonderoga athlete, but consider what Hebert has accomplished this season as just a sophomore.
Hebert won the New York State Public High School Athletic Association small-school championship June 9 in the 110-meter hurdles. He then won the New York Federation championship, which pits the top eight runners from schools of all sizes.
Hebert went undefeated this season with a best time of 14.07 seconds — the fastest time in New York and the fourth fastest high school time in the nation. The Olympic B qualifying standard is 13.72 seconds. Only a sophomore, he's only 1.2 seconds away from the world record in the 110 hurdles held by Cuba's Dayron Robles.
"When you run 13 seconds you're knocking on the door (of the Olympics)," Thorne said. "He's got a chance to reach 13 this weekend."
The Sentinel champion is more reserved than his coach. Olympics?
"That's too far away to think about," Hebert said. "I just want to work hard, improve and run in college."
Hebert is running in the high school national championship track meet this weekend in Greensboro, N.C. That meet features two divisions — emerging elite and championship. Being a sophomore Hebert is slated to be in the emerging elite race, but Thorne thinks his thinclad may be moved up to the championship event.
"I'd like to see him in the merging elite, but he has the fourth fastest time in the country so they may put him the championship race," Thorne said. "That race will be all seniors, the best of the best. I'd like to see him ease into national competition."
(Continued on Next Page)
Prev Next
Vote on this Story by clicking on the Icon